Archive for the 'Printing Technology' Category
What is Pressure Seal and How Can It Reduce Operating Costs?
Last Updated on Wednesday, 2 July 2014 02:28 Written by csimko@relyco.com Wednesday, 2 July 2014 02:28
What is ULTRASEAL Pressure Seal?
ULTRASEAL is Relyco's revolutionary pressure seal solution offering businesses and marketers a cost-effective and environmentally efficient way to create, process and deliver mailed pieces without an envelope.  Forms can also be custom printed in today's office laser printers, complete with postage, allowing for control of costs, personalized designs and either bulk or one-off delivery of mailed pieces when necessary.
By eliminating the printed envelope from the process, pressure seal has become the more efficient and "green" alternative when doing office mailings.  Folding, stuffing, gluing and heating of mailings and envelopes are things of the past.  Pressure seal is the future.
What are the advantages of using pressure seal?
Once you print the pressure seal form or check in your color or black and white laser printer, they can be fed into a pressure seal machine.  These machines take care of all of the folding and sealing, utilizing pressure that activates the special paper coating.  The machine completely seals the edges of the piece to create the ready-for-mail document.
Is pressure seal less expensive than traditional office mailing?
Taking on any office process transformation can, at first, seem costly and time consuming.  However, pressure seal is the easiest and most affordable implementation you will ever make.  The savings in both time and money compared to manual processing is easily calculated.  The graphs below illustrate exactly what can be gained.
ULTRASEAL vs. Manual Processing
ULTRASEAL Pressure Seal takes the need for water, glue, heat and envelopes completely away – as forms and checks are manufactured with a special coating that is activated during the sealing process.  Once your forms and checks run through the pressure seal machine, they are sealed, secure and ready to be mailed.
How ULTRASEAL equipment works
The most common documents that can be sent efficiently and securely with ULTRASEAL include:
For more information about ULTRASEAL or to request samples, visit us here.
Tags: mailing without envelope, pressure seal checks, pressure seal equipment, pressure seal forms, pressure seal response rates, pressure seal self mailer, pressure seal self mailers, Pressure Seal Tax Forms, Relyco ULTRASEAL, unenveloped mail | Posted under Business Tax Forms, Marketing Services, Pressure Seal Self-Mailers, Printing Technology, Secure Paper and Form Solutions | No Comments
Design Your Favorite Packaging and Promo Items Online with NEW Relyco PrintAssist
Last Updated on Tuesday, 30 July 2013 02:41 Written by csimko@relyco.com Tuesday, 30 July 2013 02:41

Finally Design Your Own Packaging & Marketing Items Online & Print Yourself
- You Asked – Relyco Delivers!
Introducing the new Relyco PrintAssist™ solution for easily designing online your own personal packaging templates, pocket folders, ID Cards and other items - then print in your shop or in-plant on demand! You design using our free online software – we ship you the blank stock to print it on…Simple!
It's a free service offered exclusively to in-plants and print shops from your friends at Relyco. No design experience or software to install is required. It's a free and simple 3-Step Online Process:
- Register for a free design account and login HERE.
- Choose your template and upload the images you want to include.
- Add text for personalization – approve the PDF proof and checkout.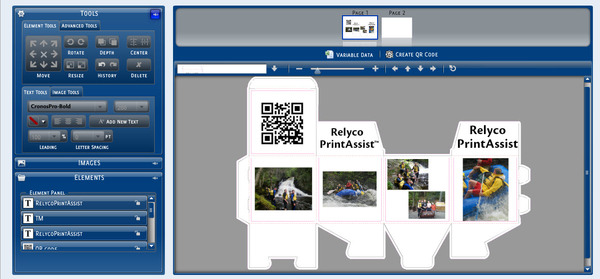 You pay with a credit card at checkout only for the number of pre-perfed blank sheet templates you requested to purchase and apply your new design to.  And your print-ready, high resolution PDF is emailed to you almost immediately as the blank stock is being shipped to you.
Register and start designing! - for Questions Call 1-800-777-7359
Template Designer includes: Golf Ball Sleeves – Pocket Folders – ID Cards – Door Hangars – Luggage Tags – Playing Card Box – 4×4 Cube Box – Business Card Mailers – Invitation Mailers – Popcorn Bowls – Tent Cards – Cup Sleeves – 3D Business Cards – Megaphones – Photo Display Towers & More!
BONUS FEATURES:
- Variable Print Data Capability – upload a spreadsheet with your variable text data – choose the variable text fields within your design and watch as a high resolution personalized proof is created for you instantly.
- Duplex Design & QR Code Feature – want to design for both the inside of the packaging items and well as the outside – and create a QR code directing smart phones to a website, send an email or text message? NO PROBLEM – simply choose the 2nd-side duplex option and design away – then choose the functionality of your QR code – and it's done. Relyco PrintAssist does the work!
- Full Editing Capability – Upload any image – crop, rotate, edit, adjust any way you like – a very powerful feature put you in control of your design!
Ricoh Showcases Vertical Applications of Relyco Products at Graph Expo
Last Updated on Thursday, 11 October 2012 02:42 Written by csimko@relyco.com Thursday, 11 October 2012 02:42
Digital on-demand printing is driving the market for all sorts of practical vertical market application. When a printer partners with a substrate vendor that is focused on the digital production printing market like Relyco is, thousands of application ideas are instantly available. At this week's Graph Expo show in Chicago, Ricoh showcased many of Relyco's digital substrate solutions to show off a variety of vertical application ideas. Using Relyco's REVLAR waterproof paper, EZ-Card ID and membership cards, and DigiPOP custom digital packaging products, Ricoh created an application gallery to show customers just what's possible with their Ricoh printer and the right digital substrates. Here are some great photos from the show of the the applications.
What If You Could Unprint?
Last Updated on Friday, 16 March 2012 08:41 Written by csimko@relyco.com Friday, 16 March 2012 08:41
Here's one of those industry-interesting stories that instantly caught my eye. This one was an article on CNET.com last night about a laser unprinter. What if you could 'unprint' the toner from your printed documents… Talk of the paperless office has been ongoing for many years now, but the market has proven that we still need to print. This 'unprint' technology could help us become greener without sacrificing what we print.
Here's the article from CNET.com:
Next up on your to-buy list, someday: A laser unprinter
Cambridge researchers say they've successfully used lasers to remove toner from printed sheets without ruining the underlying paper.
What if instead of recycling old printouts, you could simply "unprint" them and re-use the paper?
Researchers at the University of Cambridge say it's possible–and that ultimately, widespread adoption of the practice could not only save trees but significantly reduce climate-change emissions from paper manufacturing and recycling as well.
The university reported yesterday that Julian Allwood, leader of the Low Carbon Materials Processing Group at Cambridge, and doctoral student David Leal-Ayala had successfully used lasers to remove toner from paper without significantly damaging the paper.
With help from the Bavarian Laser Center, Allwood and Leal-Ayala tested 10 different laser setups–spanning the ultraviolet, visible, and infrared spectrum, and featuring different strengths and pulse durations–on standard Canon copy paper with HP Laserjet black toner.
The researchers then examined the test sheets using a scanning electron microscope and subjected them to color, mechanical, and chemical analyses.
The university speculates that advances in laser, copier, and printer technology could one day make toner-removing devices widespread in office settings. "What we need to do now is find someone to build a prototype," the university quotes Allwood as saying.
And reusing paper in this way could at least halve emissions from the pulp and paper recycling industry, the university claims, with emissions from paper incineration and decomposition in landfill being affected as well.
A commenter on the Cambridge site also wonders if the process could replace shredding as a security measure.
For unique and environmentally friendly consumable products, such as waterproof, paper, carbonless laser paper, and more that you can use in your laser printer today, visit us at www.relyco.com, call us at 1-800-777-7359, or email info@relyco.com.